Lots of you loved Lucy's church bag (as seen here). (Thanks!)
Well this guy has been bugging me for a few weeks for his own church bag.

(isn't he so handsome!)
So I came up with this! I've had it half started for like 2 weeks but I needed a fabric belt for the strap and I finally went to Thrift Village and got one!! I followed a tutorial on the great blog Create Studio called the Mr Postman Mail Bag and I just made some alterations.
I added pockets on the inside for the crayons.


Added a big A on the front. (that would have been a lot easier had I had wonder under…. but whatever it worked out!)


And instead of using the strips of fabric down the sides, I just cheated and used my belt the whole way down.


I actually made it a bit wider too since I know he will be filling it with papers for church since that's what it's for 😉 One day I really should buy some thread that matches things too since I normally only have pink, white and black (and the white's almost gone!) and then you wouldn't seen my bad sewing so much. But oh well – it's HOMEMADE hahahahahaha 🙂


(thanks to Regan for the picture of the two of us!!)
Ah how I love him and I hope he loves his bag!!!
I Linked it up!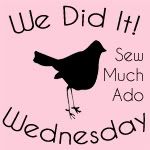 And at
Amy Lou Who