Over the next few weeks I'll show you how to make something you could use for a creative organizer for your blog or a cute day planner or a mini album. Each could be adjusted and changed a bit to suit what you need it for.
Creative organizer Idea #1
1. Take one 6″ x 9.5″ notebook and one piece of 25″ x 23.5″ fabric.

I just learned what this cool tool is! It's awesome 🙂

2. Use it to measure in 1 inch from the edge of your fabric on the two longer sides.

And iron it down.

3. Then open it up and fold your raw edge into the ironed edge. (As in 0.5″ in)

4. And iron that. So that you are completely folding in the raw edge and you don't see it. (still with me???) 🙂

5. Sew down this edge.

6. On the two shorter sides of your fabric, just fold it in once 1″ and iron it down.

7. Place your note book in the middle of your fabric piece and see exactly where you want it and iron it. I folded in 5″ from each edge.

8. Sew the tops and bottoms of each side (but NOT where you are going to slide in your notebook!!)

9. Sew a button onto the front pocket (making sure you don't sew through both layers!)

10. Then on the backside sew some elastic, ensuring you line it up (the pattern on mine helped with that – I just followed the line around) and that you make it long enough to go around the button. Small elastic would have looked better – but I just used what I had around!

11. Done!

Pretty easy and cute. Obviously you can use different sizes of notebooks and just make your fabric bigger or smaller. AND you could add a pocket on the inside for a pen. I'm going to make one for my day planner that has a pen. I'll show you it when I do. This took my like 20 minutes during Eli's nap!
Next week I'll show you a recover of a binder and a notebook.
And then some from scratch the week after that!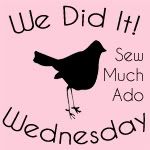 ——————————————————————————–
And I just wanted to add this little story from Alden cause it was so funny and I didn't want to forget it!
While driving in the van last week Alden was telling Lucy about how when people die the get buried in the ground in the graveyard. Then they put a big stone by it. I said "Yeah it's called a headstone or a gravestone." Alden "Oh I thought it was called "there's-someone-dead-stone."