Lucy was invited to a birthday party. And I had been at the store and totally forgot to get a present for it. And I've been on a saving money kick.
So put the two together and I came up with this lovely little Apron for the present. I call it the Ruffly Apron. Brilliant name, I know! 🙂

I measured Lucy to see how tall it would need to be (her and her friend Amy are the same age so I just used Lucy for measuring). I used scraps of fabric I had around the house and even an old shrunken t-shirt I had around – that's what gave me the cute little pocket!!

A closer up view of all the ruffles. I made it nice and girlie since Amy is a girlie girl!


Lucy informed me she needs one too. So I'll be making another one with a few variations this week!
Linking it up at The Persimmon Perch and DIY Show Off and It's so Very Cheri and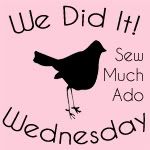 If you follow those links you'll find LOTS of fun projects!!